We provide high quality year round services
at competitive prices.
Come and visit us.
Walk through our Wholesale Nursery.
We have landscape trees and shrubs.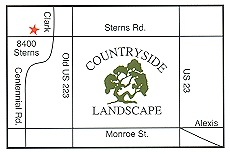 If we don't have the tree, shrub, or perennial you
are looking for, we will get it for you.
Simply e-mail us or call for an appointment
and we will provide you with
information and prices.
Toledo, OH -- Monroe, MI -- Sylvania, OH
Southeast Michigan, Northwest Ohio
We cover a large area.
(734) 856-8112
Toll Free: (866) Turf Pro
Toll Free: (866) 887.3776
e-mail: info@countrysideltd.com